The consequences of being able to store many applications, documents, photos and videos on our mobile are obvious: at some point we will reach the limit. And while it is true that there are very good tricks to free up space on your mobile, in my particular case I have a remedy that prevents it from even touching the storage limit. It is neither more nor less than Telegram.
I could say right away that using it as my main messaging app is beneficial because it doesn't take up as much space as WhatsApp. It's true. However, it's all a matter of organizing files. Telegram, without being a perfect system either, is a good way of not loading tens of GB of files onto your mobile.
Important or temporary files. All for Telegram
Over the years I have been switching between note apps, file managers and others, but in the end I have always kept Telegram as a nest of files to consult quickly and at any time. And the process is very simple: in
It is essentially about sending myself files of all kinds that, although at first they might not take up too much space, overall they would. My ID scanned in PDF, the rental contract for my home, the tickets for my next visit to the cinema, the menu of a restaurant that I will go to… Anything goes. And of course, also photos and videosalthough in this case I have a lot of storage in the cloud and I only spend those that take up a lot of space (and it is not usual).
In this app there is a chat with yourself called 'Saved messages'. Initially it was the recipient of these files, although over time I realized how fundamental it is to have a good organization. I have achieved this thanks to the combination of groups and the possibility of creating folders in Telegram.
The groups are normal and ordinary. First I create them with the help of some guinea pig (greetings to those friends whom I "use" for this), since by default we cannot create a group with ourselves, although we can add other people and delete them until just us stay. I add them in those groups having commented on them before
Some time ago I admit that I had a more detailed organization, but currently I have stayed with these:
Personal files (for my ID and other similar documents)
House data (rental contract, electricity meter CUPS, invoices, etc.)
Family files (files related to family data and that you should have on hand)
Temporary files (movie tickets and other similar documents that I later delete because it's not important to keep them)
As is evident for the practice to make sense, nothing else in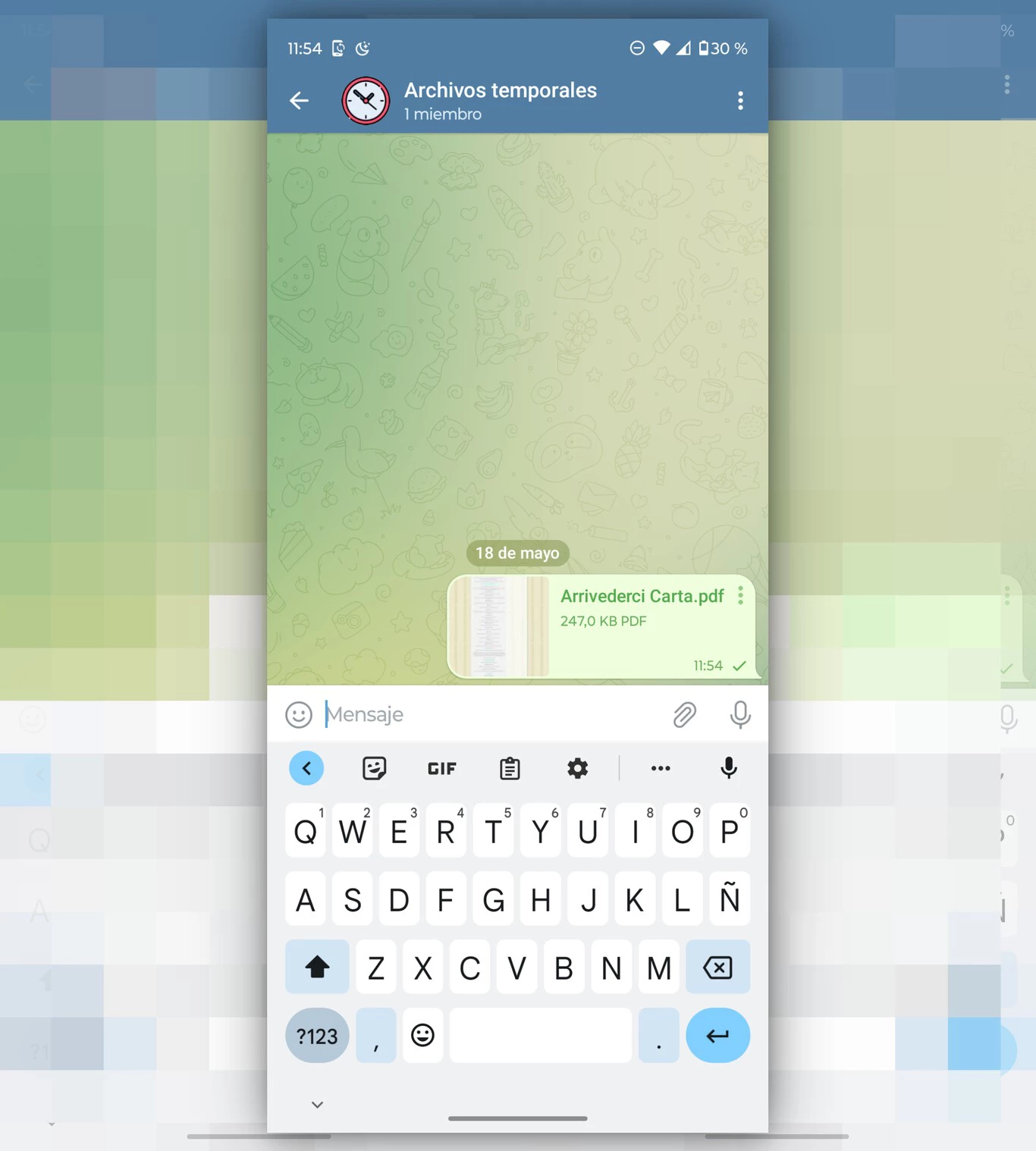 Chat example for temporary files that I delete later when I don't need them
Thus, and obviously not the only thing, Telegram has been key for years in helping me maintain free space. Not long ago I mentioned it to a friend with problems to free up space on his mobile phone and, although at first it seemed a bit strange, he saw something useful in this system and that it really is very intuitive and practical.
Why do I use Telegram and not WhatsApp for this?
A while ago I would have told you that it is all a question of size limits for sending, since Telegram has had a generous 2GB limit and WhatsApp has remained at 100 MB for many years. However, since 2022, WhatsApp has increased this limit for shipments and is already on an equal footing with WhatsApp.
So what is the reason why I give it priority over WhatsApp? Plain and simple that WhatsApp files continue to take up space on my mobile and my cloud (if I make a backup), but on Telegram they don't. The latter offers unlimited storage on its own servers, thus making it accessible from any device you log in to. It also doesn't matter if I delete the files from my mobile, since they will continue to be kept in the chats.
on whatsappFor its part, everything we send and receive will remain in our gallery. If we delete it from there, they will continue to be in the chat, but without being able to see them unless we download them, at which point, of course, they are stored in internal memory again, making this mission to free up space impossible.
Then there is another more personal fact and that is that, as I said at the beginning, Telegram is the app that I use the most to communicate with family and friends. Therefore, having everything in the same app is more comfortable for me. Sometimes I have already counted other uses for which Telegram increasingly replaces more apps on my mobile. This saving space, of course, is one more that adds up.
In Xataka Android | Unlimited cloud so you can upload whatever you want for free: UnLim and Telegram make it super easy for you
In Xataka Android | Which messaging apps have end-to-end encryption: WhatsApp, Telegram, Instagram and more