One of Apple's great assets is the strength of its ecosystem and how well the devices understand each other. But the variety is the taste and perhaps you prefer (or simply agree) an Android phone and an iPad or vice versa, an iPhone and an Android tablet or have two phones, one with each operating system. The latter is my case and means that what appeared by magic in Apple now requires more processes and applications in between. This is how I work combining Android and Apple devices optimizing processes.
They are not all that they are, but they are all that areso if you want to contribute more applications so that both different operating systems "understand" each other better, you can do it in the comments.
Send and receive messages
Between Android and iOS there is no iMessage (or Messages) that is worth it, but this is not a special problem since there are some of the most popular alternatives that allow me to see my chats on both sides or even exchange messages between them.
The app I use for how well it works, its features and that it is not restricted to a single phone is Telegram (download it on iOS and download it on Android), a real gem for multi-device workflow on both mobile and desktop devices.
If you use an Android tablet or iPad, you can always resort to WhatsApp Web to see what comes to you from your mobile or send messages to yourself, and there is also the option of Google Chat (download it for iOS and download it for Android) – note, not to be confused with Google Messages, not available for Apple –, linked to email and more focused on professional use, but with which you can also exchange messages, photos, GIFs, files and Drive, calendar events… interchangeably from both devices to other people.
Extra Telegram Bonuses: In the absence of AirDrop, it is good to have my own Telegram group in which I am alone to share all kinds of files.
A clipboard for copy and paste
One of the things I use the most in my workflow at Apple is a very mundane task: copy and paste between devices using that common clipboard. Here's an app that I highly recommend because it works well and because it's the same for Android and iOS as it is for your computer: it's called Clipt (download it for Android and download it for iOS) and it's very easy to use.
OnePlus clip Synchronize the different clipboards of your devices to be able to paste them between them and also it is not limited to a single file, but you can see and choose what to paste. It takes a while to set up and links to your Google Drive, but it's worth it (quicker than copying and pasting things in my Telegram group). Of course, your devices will have to be connected to the internet for it to work.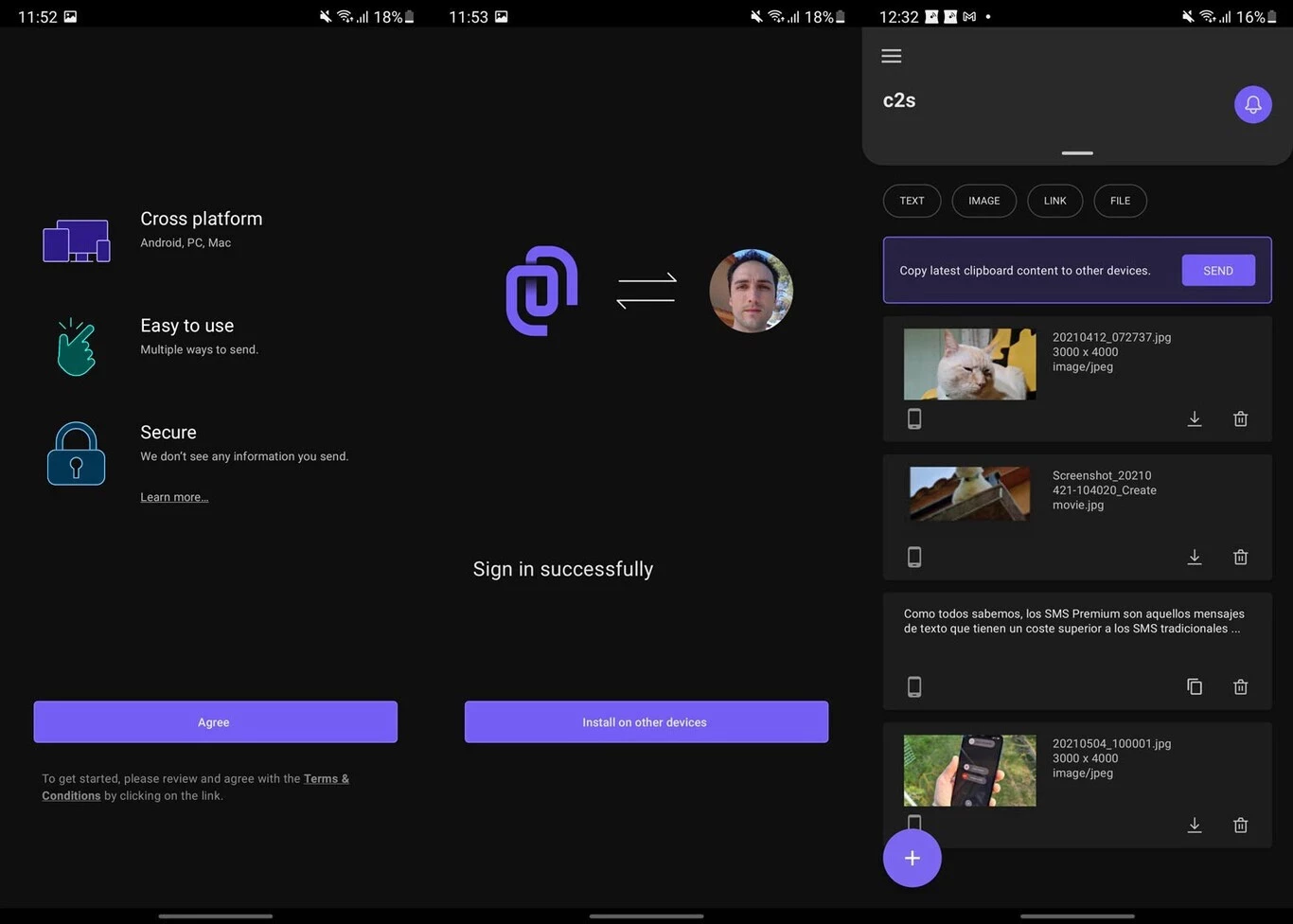 clip interface
continue work
The tool Handoff allows you to open a document and start editing it on one Apple device and continue editing on another device Immediately. As a person who has a Gmail account, I already have this implemented in iOS and Android in my emails, contacts and calendar events by adding my corresponding account and configuring it for this purpose, so that they appear in the native applications of the device. But there is more.
Google Docs interface on iOS
If I have to switch Android and iOS devices, my solution goes through Google and its office suite, with access to word processors, presentations, spreadsheets, notes… that I can install on all my devices and, once configured with my corresponding email, that my files are up to date (as long as I have an internet connection ) to continue my projects. You also have another alternative with the popular Microsoft Office (download it for iOS and download it for Android)
In the Apple ecosystem you have Notes and Reminders, two applications that I use a lot in my day to day to organize tasks and my ideas, but by installing Google Keep (download it on iOS and download it on Android) you can do the same with notes and lists. Here you also have a good assortment of note applications compatible with both: Wunderlist, Evernote, Simplenote… The handicap that I find them? The learning curve and in-app purchases.
Navigation synchronization
If there is a task in which I do not suffer or suffer from multi-device use, that is navigation. To tell the truth, in my day to day I mix Safari and Chrome, so the change is minimal.
In the Apple ecosystem, synchronizing your open tabs involves using its native Safari browser, but if I have to switch between Android and iOS, I go to Google Chrome (download it for iOS and download it for Android), with which, thanks to email from gmail i can take with me the history, the open windows, logins and passwords…
However, I could also do it with Opera (download for iOS and download for Android) or Firefox (download for iOS and download for Android), two browsers I use marginally on my computer.