The contacts application may be one of those that many users are unaware of. It is assumed that it is only used to store a phone number, but really it is most useful to add additional information (such as the address of the contact and that Google Maps opens directly to us).
Now, Google wants it to be a little more useful and for us to use it more and, therefore, it has rolled out an update that allows us to add a contact's birthday or important dates directly from Contacts.
Get more out of Google Contacts
Google is determined that we have a closer relationship with family and friends and has just launched its new birthday reminder feature. In addition, it is a function integrated with the rest of the Google ecosystem, which is why it drinks, and in turn feeds, the rest of the applications and services.
First things first, and now to add a birthday to a contact, all you have to do is open the 'Contacts' application and go to the middle tab, the one called 'Featured' at the bottom of the app.
There, directly, a highlight should appear in 'For you' indicating that the new function is already activated and that you can start adding birthdays. It is as simple as clicking on the option and choosing the icon of the birthday cake to add the date.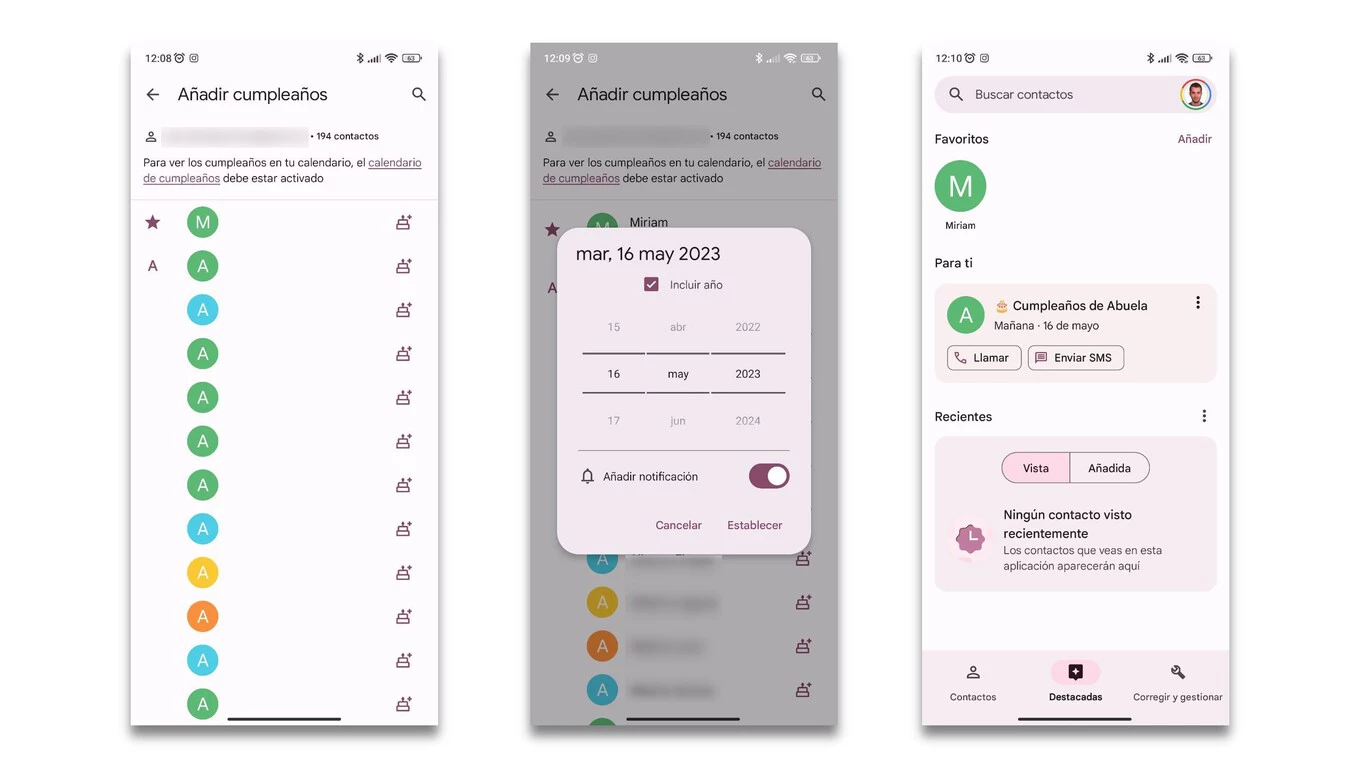 Since the data is synced to your Google account, it appears on any device with that account linked.
Another way to do it is to click on a contact, click on the pencil icon to edit and add the information. Once you have added a birthday, you can activate a birthday notification.
Click on the contact with that information and click on ⋮, at the top left. The drop-down menu shows the 'Add birthday notification' option, select it, and you'll get a prompt stating that reminders must be turned on for that to happen. Directly, you can go to contact settings and activate notifications.
Done this, when the date is, you will receive a notification in Calendar. Also, even if you add multiple birthdays, the notifications will be for the contacts for whom you have decided to manually activate these notifications.
On the other hand, and as we said before, the ecosystem will benefit from this and, as we read in 9to5Google, Contacts will read if we have in
In Xataka Android | I did not imagine that WhatsApp was going to change my watch: with its new app I no longer need my mobile