If you use your phone for both personal and professional purposes, then you might be interested, for example, in being able to access your personal Facebook account and your professional Facebook account independently with two apps. Or to Instagram. Or WhatsApp. Whichever application you choose, on Android it is possible to install several copies of the same application that you can keep open and running simultaneously. Here you have not one method, but several to achieve it: some are native and others are some of the best applications in the Google Play Store.
With native Android app
Some Android devices have native support for app cloning, which allows you to run multiple copies of the same app without installing anything else. This feature is available on Samsung, Xiaomi, Oppo, and OnePlus phones, among others, under different names. Thus, it is called 'Dual Messaging' in Samsung and Parallel Apps in OnePlus.
As an example, below these lines you have some screenshots of how Dual Messenger or Dual Messaging works on Samsung, which you can access from 'settings' >'advanced features'.
This function is intended to create two copies of social media and messaging appsalthough you have the option of cloning other applications as well depending on which tool is used.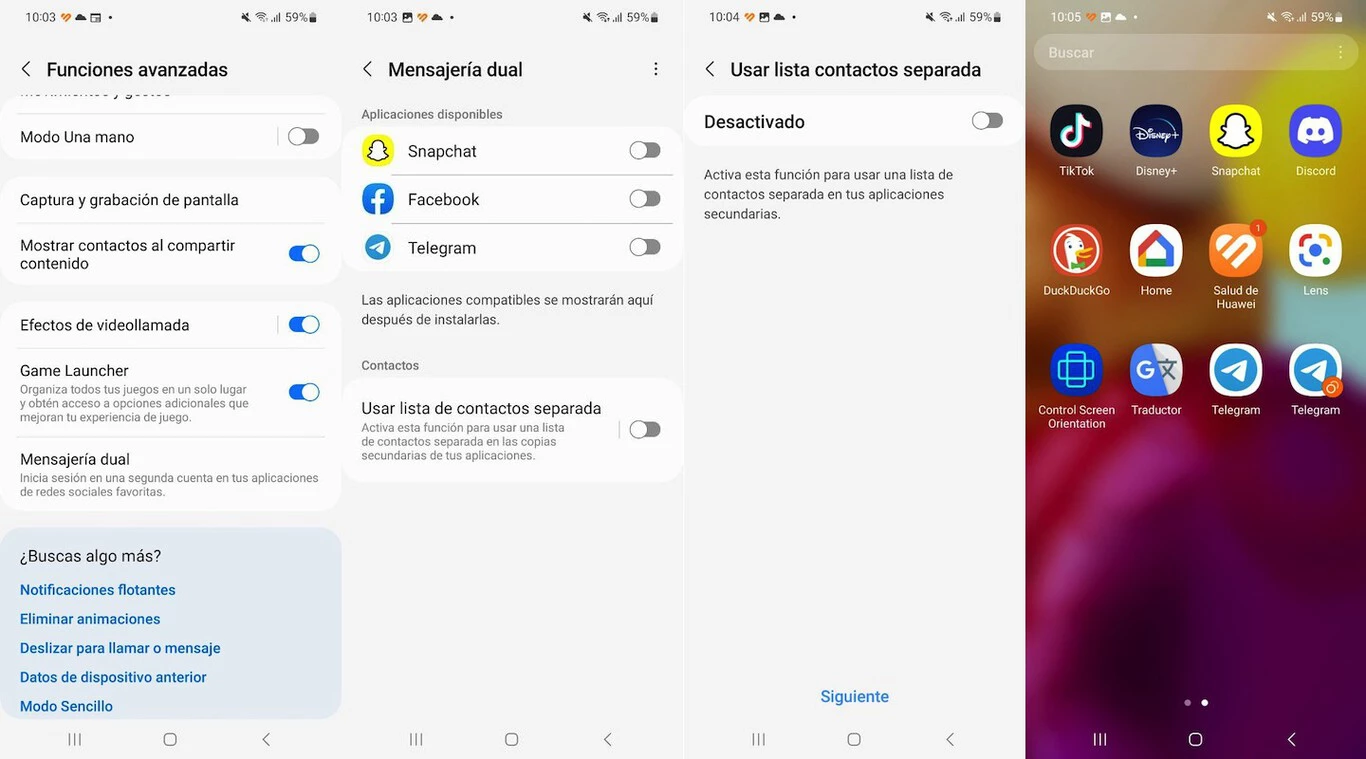 Procedure in Samsung "Dual Messaging"
Parallel Space
Parallel Space is a pioneer in the app cloning niche. It is based on multiDroid, the Android virtualization system par excellence. With Parallel Spece you can create two versions of the same application with separate data files so that both versions run independently.
It stands out for its ease of use and for its careful privacy functions to protect your data, allowing you to keep app clones in a secret space with security lock.
To switch between applications, just one touch is enough and it even has a speed mode to speed up the process. The good thing is that can clone virtually all popular apps, including Facebook, WhatsApp, Instagram, Twitter. For you to distinguish both versions, it is possible to customize the themes.
To run multiple instances of an app with Parallel Space, just download the app and open it, tap on 'Add an app' and select the ones you want to clone. Once you have them in that space, open them with a tap.
Download the app for free with in-app purchases on the Google Play Store.
Dual Space
Dual Space is another of the best apps to clone apps from the Google Play Store that shines for its low CPU consumption and its good support for mirroring applications messaging, social networks and others. So you can clone almost all popular apps and do it quickly, then use them simultaneously without data interference.
An interesting point is cHow do you manage notifications from cloned apps? so that it does not mislead you with respect to the standard application. As in the previous app, the private space function will allow you to use your different accounts safely.
To get started with Dual Space, all you have to do is open the app once it's downloaded, touch the '+' and choose the app you want to clone from a long list. Then, you will enter the space with your cloned applications, where you can undo duplicates and configure passwords and notifications to your liking. In the "must", the free version is quite loaded with advertising.
Download the app for free with in-app purchases on the Google Play Store.
2Beads
2Cuentas is another excellent app for creating Android clone apps. Supports a great number of applications of all kinds and even games. It has a virtual space feature that stores all data of cloned apps to avoid interference between standard and duplicate apps.
With 2Cuentas you can open two Google Play game accounts, it has a secret zone and a lock function to protect your data and privacy. To clone with 2 Accounts, open the app, tap on the '+' and choose from the list. In a few seconds, you will have it ready.
Download the app for free with in-app purchases on the Google Play Store.
Home | Montage with image of Muhammad Salman on Pixabay
In Xataka Android | Android 14 will allow you to easily clone your applications